Tool kit price, power tool kit, electrical tool kit, electrical apprentice - AAA - Kottayam
Friday, 10 February 2012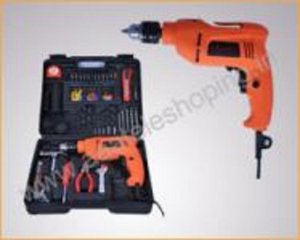 Contacts

AAA Teleshopping

9310415522
Item description
Contains 104 drilling accessories for all your drilling needs.
Impact Drill machine 13 mm capacity.
Variable speed drill machine with a maximum load speed of 2200 rpm.
Weight of Drill Machine : 1.7 KG.
Super Heavy duty drill machine.
Reversing lever to easily reverse the direction of drilling.
Electronic Speed Adjustment for varying speeds.
Locking button.
3- Jaw Chuck.
Easy to use switch to toggle between standard/hammer drill functions.
Double Insulated shock proof plastic body.
Easy grip swivel handle with depth gauge.
Body shape to facilitate wrapping of power cord around it.
Holes of accurate depth can be drilled with the help of depth gauge.
Instruction manual included.